I may earn a commission for purchases using links on our site. Learn more.
Summer is the time of year when mosquitoes are out in full force. And if you're like me, you hate those bloodsucking pests with a passion!
There are many options that are meant to get rid of mosquitoes, but in my experience, only a couple really work. And well, they involve using a repellent on my skin, either a spray, lotion, or wipes, or covering up when the weather is sweltering. Not the best solution!
There are also Thermacell products that work well if there is no wind and in restricted areas. The latest product in their range is the Thermacell E55 Rechargeable Mosquito Repeller.
In this review, you will find out how it works and whether it is something you should consider for your garden this summer.
As an Amazon Associate, I earn from qualifying purchases.
What is the Thermacell E55 Rechargeable Mosquito Repeller?
The mosquito repeller creates an invisible zone of protection against mosquitoes. Just turn it on, and in a few minutes, you will have your skeeter-free area.
The E55 keeps mosquitoes away without unpleasant odors, sprays, or vapors.
Thermacell has two repellers in the E series, the E55 and the Radius. Both repellers have a rechargeable battery and a liquid repellent. The liquid repellent cartridges are compatible with both of these spatial repellers.
Who is it for?
Everyone should try and avoid mosquito bites not just because they cause itchy bites that can be painful but also because they carry diseases. The most common mosquito-borne diseases in America are West Nile Virus, dengue, chikungunya, and Zika virus.
These diseases usually occur from May to September, when mosquitoes are more prevalent. The most effective ways of protection are avoiding mosquito-infested areas, not going out when mosquitoes are most active, using repellents, and covering up.
Avoiding infested grounds and not going out in the evening or at dusk isn't always possible and puts a lot of limits on your summer fun. Mosquito repellents and covering up is effective at all times but not necessarily very pleasant, especially when it's hot.
An alternative to these solutions are the Thermacell mosquito repellent devices. There are several different designs, and the latest is the E55 Repeller.
Thermacell devices are zone or spatial repellents, and they can be very effective and useful if there is no wind, the area to protect isn't too big, and you're not moving about.
If you are on the move (hiking, running, etc.), you will have to apply a repellent to your skin or cover-up. If you want to protect a larger area than the 20 sq ft the E55 covers, it may be possible by using several Thermacell devices.
And if there is a breeze, then a spray repellent on exposed skin might be necessary, but it is worth mentioning the mosquitoes aren't strong fliers, so you may be alright for a while without getting bitten. If there is just a slight breeze and you want to use the E55, set it upwind from where you are sitting so the repellent blows towards you.
So this Thermacell repeller could be ideal for you if you have a deck or patio area where the mozzies eat you.
How the Zone Repellent System Works
The Thermacell E55 is a rechargeable mosquito repeller that creates a 20 ft (400 sq ft) mosquito-free zone. The previous Thermacell models created 15 ft (225 sq ft) zones. The mosquito repeller uses heat produced by a battery to activate the repellent to create the zone. The repellent is diffused into the air, and after about 15 minutes, you have a mosquito-free area.
Getting Started with Your Repeller
In the box, you have the E55 zone mosquito repeller, a 12-hour refill cartridge, and a USB cable for charging.
The first thing to do is plug in the device to charge the rechargeable battery. The USB port is located at the front of the repeller under the power button. There are battery charge indicator lights below the power button; you will see three lights lit up when it's fully charged. If you want to know the battery level when the device is working, a quick press of the start button will show the battery indicator lights.
Fully charged, it should run for about 5.5 hours. You can use the repeller while charging, but it will take longer to charge if being used at the same time.
Once charged, you insert the repellent refill. Take the top off the E55 and then remove the cap from the repellent but keep the cap for future use; it may be useful.
Insert the refill into the slot and put the top back on the repeller; make sure the wick passes through the hole in the top, so you don't damage the wick.
Now you're ready to go! Press the power button, the repeller will emit a few beeps, and you will see the three battery charge indicator lights for a few seconds, then they turn off.
If the battery is not fully charged and you only see one or two battery level lights, and if there are flashing lights, it means there is not enough charge to turn on the repeller.
Assuming the battery is fully charged, the battery indicator lights will go out, and four other lights display a chasing or circular pattern. When the operating temperature is reached, the four lights will stay lit at the same time. Now you have to wait about 15 minutes for the bug repellent zone to form.
When you have finished outside, turn it off by pressing the power button for two seconds. The repeller will make a beep, and the lights will go out.
Repellent Cartridges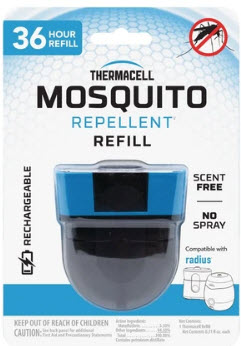 When the cartridges are empty, you can buy replacements that last for up to 36 hours. These are pretty expensive so, when not using your repeller, you may want to remove the cartridge from the device and replace the cap on the refill to avoid evaporation.
To determine the remaining repellent level, you will need to visually check how much liquid is left in the cartridge. With previous Thermacell devices, you had to look at the repellent mats to see if they had gone from blue to white or were somewhere between the two. It was not always easy to be sure if there was enough repellent to be effective. So, seeing liquid in the transparent repellent cartridge gives you peace of mind – you know for sure if you are (or are not) still being protected.
If transporting the repeller, take out the repellent cartridge and place the cap on the refill.
The Thermacell Radius cartridges can be used in the E55, but the protection zone will be 15 sq feet. The refills for the E55 can also be used in the Radius and give a 20-foot zone. This means if you already own the Radius repeller, you can benefit from a larger protection zone without buying the E55.
On the Thermacell website, they now only seem to have one 36 hour refill for the two models. So no more confusion!
Features
E55 creates a 20-foot protection zone
Easy to use – press one button to start
Repellent cartridge supplied with the repeller will give 12 hours of protection
Replacement cartridges can be purchased giving protection for 36 hours
Powered by a rechargeable lithium-ion battery to provide 5.5 hours of protection when fully charged
Can charge while operating
Repel mosquitoes with no sprays or chemicals on your skin
No flames, smoke and scent-free
Reviewed by EPA for effectiveness and safety
Dimensions 4″ x 4″ x 6″ (LxWxH) Weight 0.8lb
2-year warranty
The Repellent Used in the E55 Repeller
The repellent used in the E55 is metofluthrin. The previous devices produced by Thermacell used allethrin. These are both pyrethroids and are manufactured chemicals with a similar structure to pyrethrins which is a mixture of natural chemicals found in chrysanthemums.
Pyrethrins and pyrethroids are effective insecticides and can be found in many household sprays, insect repellents, insect bombs, animal shampoos, and lice treatment. You should always follow instructions and keep them out of the reach of children.
The Theramacell products are designed to repel mosquitoes and not kill them.
Methfluthrin is also used in the OFF Clip-on mosquito repellent, which is effective but uses disks and a fan to spread the repellent.
Safety
The Thermacell E55 emits an invisible shield that repels mosquitoes, but is it safe for humans to breathe?
According to the EPA fact sheet, metofluthrin is "practically nontoxic to mammals and birds but highly toxic to aquatic animals and insects." It could "pose a threat to non-target insects." In the same fact sheet, it is also mentioned that metofluthrin caused cancer tumors in rats when regularly exposed to large doses over a long period of time. The quantities you would absorb sitting outside in your protection zone are, of course, much less.
The quantities of metofluthrin used in the Thermacell devices are minimal. The repellent has been thoroughly reviewed and accepted by the EPA and different regulatory agencies worldwide. But they must be used as indicated on the label directions – only for use outdoors and keep out of the reach of children.
Pros and Cons
What We Like
Easy to use – one press of the button and the unit heats up
36 hours of protection with one cartridge
No repellent on your skin
Rechargeable battery – easy to see charge left and no need to verify if you have enough gas
Easy to see how much repellent is left
The repeller is small, comes in blue or black, and has an attractive design
The E55 can be taken on planes – you must take out the repellent cartridge and put the cap on it
Can be taken on camping trips or other outings – remove the repellent cartridge before setting off and make sure it's fully charged. But pack with care it may not be too robust and the top can easily come off!
The E55 can be used at altitudes, unlike the Thermacell products that work with fuel. At altitudes above 4,500 feet units that use fuel become difficult to start and may run badly due to lower air density. As the E55 uses a battery it doesn't have this problem.
What We Don't Like
Not effective if there is wind but other zone repellents have the same problem
If you're moving about it won't work, designed to work if you stay in the protection zone
Refills are quite expensive, about $18, however, they do give protection for 36 hours. In comparison, refills for other Thermacell models (using mats and propane gas cylinders) for 48 hours of protection cost about $20.
Designed to repel mosquitoes – other larger flying pests may penetrate the "mosquito-free zone".
Needs time (about 15 minutes) before the zone is complete. All Thermacell products require time to create a mosquito-free space.
Other Ways to Repel or Kill Mosquitoes
When repelling mosquitoes, there isn't one method that will work 100% of the time. But whatever way you choose, there should be some evidence that it works.
For example, there is no evidence that repellent bracelets or ultrasonic devices work. Citronella torches give very little protection.
An often overlooked way of keeping skeeters at bay is by using an electric fan. A low-tech mosquito deterrent that profits from the fact that mosquitoes are weak fliers. This is not compatible with the Thermacell devices and may not give complete protection. On a day with too much wind for the Thermacell device, or if you want to protect an area too large for the E55, you could combine a skin repellent and a fan or a few fans.
If you want some protection while you are eating, or reading outside under an umbrella you could use a patio umbrella net. They don't take much time to set up and are relatively inexpensive.
The repellents, traps, bug zappers, or insecticides below have been shown to repel or kill mosquitoes but have drawbacks.
Mosquito coils will give some protection provided there is no wind. They are a cheap alternative, but they produce a mosquito-repelling smoke with an odor some find unpleasant. And the burning ends isn't as safe, particularly if you have children.
Traps using CO2 do catch some mosquitoes and, over time, may have some impact on the mosquito population.
Outdoor bug zappers will kill some mosquitoes but at the same time will kill many beneficial insects. This could lead to a reduction in the number of mosquito predators in your yard as the "beneficial insects" might be the food for the natural mosquito predators such as birds and bats.
Fogging or spraying with insecticides will kill mosquitoes and many other innocent bugs.
If you want to treat your mosquito problem at its source larvicides are an excellent way of killing mosquitoes before they leave their breeding grounds. Treat any standing water in your yard.
Whatever method you use to kill mosquitoes it won't kill 100% of the insects, so you will still need a repellent.
The Thermacell Company has a selection of spatial repellent devices that have been shown to work without killing other insects. They are straightforward to use, reasonably priced, and safe.
What Do the Purchasers of the E55 Think?
There are nearly 8500 reviews on Amazon, of which 77% are 4 or 5-star reviews.
Although most reviewers are very happy with this repeller, the most common complaints are it doesn't work, the battery charge didn't last long, and the price of the refills is too expensive.
The most appreciated points of the positive reviews are: it works as expected with no odor or noise, no fuel refills are needed, and it's easy to use.
Yes, it's common to get completely opposing reviews. Still, one recurring point in many negative reviews, (that said the E55 didn't work) is the purchaser had previously used another Thermacell device with fuel and the blue mats. And the repellent mats worked well! Perhaps the active ingredient used in the mats, d-allethrin, performs better against certain mosquitoes.
In any case, the battery-powered repellers have a 2-year warranty. If not 100% satisfied, you can return the repeller for credit. If you have an E55 that's not working correctly, Thermacell says they will "replace any malfunctioning repeller while it is still under warranty." So, if for any reason you are not satisfied with your Thermacell rechargeable repeller, contact customer service.
Thermacell Rechargeable Mosquito Repeller Summary
When you're looking for a solution to a mosquito problem, you want something effective, not too expensive, easy to use, and safe.
The Thermacell E55 Rechargeable Mosquito Repeller creates an invisible protection zone against mosquitoes. It's easy to use, reasonably priced, and safe, making it an excellent choice for anyone looking for an effective and affordable mosquito repellent.