I may earn a commission for purchases using links on my site. Learn more.
You can't avoid flying insects that bite and disturb you once outdoors. They are part of the environment, and you have to find ways to protect yourself from them. You can apply insect repellent lotions if you are alone.
But if these flying insects are pestering your whole family, then you might need a stronger repellent, something that can be put outside the house with a wide range of protection. Also, you would want something that lasts so you can really make use of it for a long time and give you your money's worth.
Do you have any idea what to get? Well, you can consider purchasing an outdoor lantern. The Thermacell Patio Shield Mosquito Repellent Lantern might work for you and your whole family!
Thermacell
The company has been selling portable insect repelling devices since 1999. The devices provide 15 sq. ft zones of protection. Small cartridges and batteries power them. They have recently developed mosquito repellent devices, the Radius Zone Repeller and the E55 Mosquito Repeller, that use rechargeable batteries and have a new active ingredient that has increased the protection area to 20sq ft.
Thermacell has also developed a no-spray way to kill ticks that is safe for the environment.
Repellent Lantern Features
Has a 15×15, or 225 sq. foot zone of protection against bugs
Silently and effectively repels flies, mosquitoes, and other flying and biting insects.
It also provides ambient light.
Dimensions 4″ x 4″ x 6.3″ (LxWxH) and weighs 0.6lbs
12 hours of protection included
Operates with a fuel cartridge that is supplied (no open flames)
Active repellent ingredient D-cis/trans allethrin (a synthetic pyrethroid)
Lightweight, cordless, and battery-operated, that also serves as a decorative patio light
It consists of LED light and requires three AA batteries (not included) to operate.
It has a one-year warranty.
As an Amazon Associate, I earn from qualifying purchases.
This repellent lantern will keep you sane during long-term outdoor activities. It is very light, so it's practical to take with you for different activities.
Field tests have shown the lantern can reduce biting rates in a protected area by about 92%. Another study in Israel showed different Thermacell products provide effective protection when placed at different distances from a volunteer.
Proven to be safe and effective, the lamp is battery operated, so you can use it around your yard when eating out or gardening. Some even take it with them when they're mowing the lawn! Ideal for camping trips, fishing, or picnics. The lamp is safe for children and pets.
You may need to consider how you position this lantern, so you get the optimal protection you deserve. Thermacell recommends placing the lamp at the center of the area you want to protect. They recommend setting the lamp upwind in windy conditions, so the repellent is blown towards you.
It has a functional and durable decorative design with an LED light that provides discreet illumination whenever you need it. Most importantly, this unit also serves as a pest-repellent device. It creates a maximum 15×15 foot area to protect you against troublesome insects.
There is also a square version of the lantern (Patio Shield Mosquito Repeller Lantern XL) with very similar features.
How It Works
To repel mosquitoes, you need to install the butane burner cartridge and repellent mat. The first cartridge and 3 mats are supplied with the lantern. This should give you 12 hours of protection.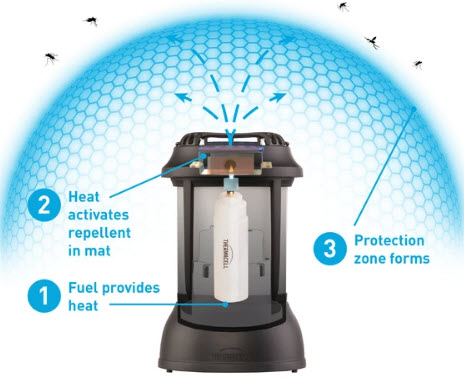 When turned on, the gas's heat is directed to a metal grill. This heats a mat saturated with a repellent that is placed over the grill. The heat releases the repellent into the air.
The mosquito lantern doesn't provide immediate protection when it's lit. You have to wait for 15 minutes to allow the protective zone to form.
The mats release a chemical repellent called Allethrin, a synthetic copy of the natural repellent that chrysanthemum flowers have. This chemical repellent is specially designed to keep away flies, mosquitoes, and other pests while remaining undetectable to humans and pets.
The butane cartridge will last for up to 12 hours, while the three mats work for up to four hours each. The mats turn from light blue to white when the repellent has been used up. This lantern offers virtually odor-free pest protection with no hassle of scented sprays or lotions.
You can buy refills when the butane cartridge is empty and the mats have no more repellent. The refills are widely available and can be purchased together. The light can be used without the gas cartridge and repellent.
Suppose you are thinking of taking your Thermacell Patio Shield repellent lantern on a trip where you will be encountering altitudes of more than 4,500 feet (above sea level). In that case, you may experience difficulty starting the device due to low air density. Other Thermacell repellent products, the Backpacker or Radius, will function at greater altitudes.
Two lanterns can work well if you are in a vast outdoor location as mosquitoes can come from anywhere. You can either place lanterns on opposite sides of an area or place them near each other, so their radiuses slightly overlap.
Thermacell also has a Perimeter Mosquito Repellent System for more extensive areas. The torches work in the same way as the lanterns. They can be mounted on posts or in the ground on stakes.
Using the Repellent Lantern
When you receive your lantern, you will have to:
Install the fuel cartridge – remove the cap and then screw it into place
Insert a repellent mat under the grid at the top of the lantern
Insert 3 AAA batteries (not supplied) if you intend using the light – there is an on/off switch under the lantern
Now you're ready to go. To turn on the repellent, rotate the lantern collar to the "ON" position, the gas will start to flow. Wait for a few seconds, then rotate the collar a little further to the right to "START" you should hear a click. You can verify if the repellent is working by looking for an orange glow located on the collar of the lantern. If you see no orange light, you should rotate the collar back to the "ON" position and then turn to the "START" position 2 or 3 times in quick succession. The lantern should now be working.
To turn off, rotate the collar to the off position and allow it to cool before storing.
The video below shows you how the lantern works and how easy it is to put in the cartridge and mats.
Safety Precautions
Thermacell is registered with the EPA, and the repellent in the pads is considered to have low toxicity for humans. There are still a few safety precautions you should be aware of.
The lantern shouldn't be used in an enclosed space; it's only for use outdoors.
As there is heat created when the lantern is working, you should keep it away from children.
It should not be used near uncovered food.
Allethrin, the repellent used in the lantern, is toxic for fish, bees, and cats.
You should avoid directly inhaling the vapor because of the allethrin it contains.
Pros
Repels mosquitoes and other insects
Provides an ambient light
Odorless
Silent
Light and portable (battery operated)
No open flame
One year guarantee
Cons
Buying refills could get expensive if you use the lantern for long periods
Lantern's performance affected at altitudes of more than 4,500 feet
3 AAA batteries needed for the light are not included
What Do Customers Think?
Overall, most people are satisfied with the lantern. As with many products, you get people who love it and say it repels mosquitoes, while others say mosquitoes even come and sit on the lantern.
Of the negative feedback, several found it to be working one night, then completely not the next day. For others, even though it was working, it seemed not effective enough to protect them from insects, no matter how far or close it was. There were also complaints that it released a bad odor, contrary to its odorless insect protection description.
If you do have problems with your device, contact the customer service at Thermacell to see if they can help.
Of nearly 3000 reviews on Amazon, 68% are 5 stars and 16% 4 stars, so more than 80% are happy. Even more impressive on Walmart with 80% 5 stars and 7% 4-star reviews out of 270 customer reviews.
Verdict
Despite the problems a few people may have, the Thermacell Patio Shield Mosquito Repellent Lantern is still very much recommendable. It is the kind of repellent that you would undoubtedly adore as it creates a 225 square foot area of protection utilizing a chemical copy of a repellent naturally found in flowers.
When used as directed, this product shouldn't kill any beneficial insects. This makes it more eco-friendly than an outdoor bug zapper. The repellent used breaks down quickly in the environment and leaves very little residue.
You can use it wherever you like fishing, camping, watching sports, or in your garden. With this lantern, you are sure to repel flies, mosquitoes, and other pests. It does not just serve as a repellent but also as a decorative lantern with its durable and functional design.
The LED light provides ambient light, and the butane cartridge provides up to 12 hours of service. The repellent mats and cartridges are easily replaced. That makes a totally worth-it product!