It's almost that time of year again – mosquitoes are beginning to appear outside and can enter your home through open doors and windows.
If you're looking for a mosquito trap to keep indoors, then you're in luck! This guide gives you everything you need to know – how they work and the best features.
The Best Indoor Mosquito Traps and Zappers
If you're in a hurry, here are links to our favorite indoor traps and zappers. We go into more detail about them later on in this article.
I may earn a commission for purchases using links on my site. Learn more.
Why Use an Indoor Mosquito Trap?
Mosquitoes are a common cause of illness, disease, and allergies. Or maybe it's the constant high-pitched whine that annoys you when you're trying to sleep. Whatever it is, you are better off without mosquitoes in your house.
The United States is home to more than 170 kinds of mosquitoes. Many of these carry viruses that cause serious illnesses – dengue fever, Zika virus, yellow fever, and malaria are just some examples.
Most people don't think about it, but there are more mosquito-related deaths in the world every year than there are shark attacks or deaths caused by any other animal.
So what's the best way to trap mosquitoes inside your home? It's time to bring out the bug traps! Indoor electric bugs traps are chemical-free, so they not only protect you from mosquito bites but are easy to use with little maintenance. They come in two forms traps and zappers.
Some people are concerned about using sprays because of allergies or other health complications, so an indoor mosquito trap is a perfect alternative. You just turn them on and let them do their thing. You can leave them running 24/7 or use them a few times a week.
How Do Indoor Traps Work?
Most devices use ultraviolet light to attract the mosquitoes before trapping them.
UV is a natural attractant for insects, and it's the usual way these traps attract their victims. Some of the more elaborate traps use carbon dioxide and UV light. As CO2 attracts mosquitoes, these types of traps are very effective.
Studies have shown night-biting mosquitoes are attracted to UV light at night but day-biting mosquitoes are more attracted to light during the day. So the success of your trap can depend on the species of mosquito in your area.
Once the mosquitoes or other insects are attracted, there are several ways they can be trapped or killed:
a fan that sucks them in and then deposits them in a removable tray where they die from dehydration
a glue card traps them when they are near
a grid charged with an electric current electrocutes them
Types of Devices, Their Features, and How They Work
As mentioned above, there are basically two types of mosquito killers, traps and zappers.
Traps
Traps are chemical-free and safe to use indoors. There is no electrified grid, so they are safe to use around children and pets. They work by emitting a light that attracts the mosquitoes from LED ultraviolet bulbs or fluorescent tubes. The best traps for mosquitoes use carbon dioxide as an attractant.
There are several traps available, starting with a simple socket trap that works with a UV light and a glue card.
Then there is the indoor insect trap with a UV light and a fan that sucks down the insects when they get near.
The last trap is similar to the indoor insect trap, but in addition, it produces carbon dioxide. This makes it more appealing to mosquitoes as female mosquitoes use the CO2 you exhale to find and bite you. Some of these traps can be used both in the interior of your home or in the garden.
Insect traps generally have a more attractive design, and the light is not as powerful as insect zappers, which means many models can be used in bedrooms without annoying you. Traps don't make a noise when capturing the insects, but the fan in a trap may make a slight noise.
Bug Zappers
Zappers also use UV light to attract mosquitoes and rely on a high-voltage electric charge to kill insects when they fly close enough. These electric insect zappers come in different forms: a lamp style, a rectangular design, or a plugin socket zapper. Some can be used indoors and outside.
The bigger bug zappers will give a brighter light and may also produce a loud zapping sound as they electrocute the flying insects making them unsuitable for bedrooms.
Another type of bug zapper is the handheld electric fly swatter. With a racket zapper, you have to actively go after the mosquitoes or other flying pests, and some people seem to enjoy this. You can see how they work in my review for the Executioner Bug Zapper.
Difference Between Indoor and Outdoor Traps
Indoor and outdoor traps work essentially in the same way. They use UV light to attract insects, traps for the exterior also often incorporate a couple of extra attractants.
Outdoor traps often use UV light, CO2, and an attractant (octenol or lurex) that mimics the human body odors. A few traps add heat and moisture to be even more attractive to mosquitoes.
Outdoor bug zappers use UV light, and many also use the same human odor attractant used in the traps.
Indoor traps use UV light to entice the mosquitoes to approach the trap. Very few indoor traps use carbon dioxide, as the most common way of producing CO2 is by burning propane which should never be done indoors.
The only indoor traps that use carbon dioxide produce the CO2 with electricity. Which makes them safe for use in your home.
As these traps all use UV light to attract insects they will be more efficient in a dark environment where they don't have to compete with other lights.
How to Choose a Trap That's Right for You
There are a few considerations to take into account. Where will you place the trap? Is it for indoor and outdoor use? How big is your house or room? What kind of budget do you have to spend on it? Do you want to trap mainly mosquitoes or other insects?
Once you've answered these questions, you'll be able to narrow down your choices.
The size of your home will also determine which traps are suitable for you because some can only cover smaller areas.
The placement of the traps will affect its efficiency because you want to make sure that it reaches every corner of the room or house. If you have kids or pets, then traps are safer than zappers.
If you want to trap mostly mosquitoes, you should get a trap that emits carbon dioxide because female mosquitoes use this to find their prey. However, users of all the traps listed below say they catch mosquitoes, among other pests.
As for the budget, bug zappers and traps have similar price ranges. You should find something suitable for your home in the price range of $20 – $50.
Finally, if you want to know which model is the best mosquito killer, it all depends on the features of each device, so read on.
Reviews of 5 Best Indoor Mosquito Traps on the Market
 As an Amazon Associate, I earn from qualifying purchases.
Katchy Indoor Insect Trap
The Katchy Indoor Insect Trap is a simple device that works with a UV lamp to attract bugs and a fan that draws them into a tray with sticky glue boards. The Katchy does not have a grid to electrocute the caught insects, making it safe for kids and pets.
It has a stylish design and uses little electricity, perfect for those on a budget.
This trap does not produce carbon dioxide or use chemicals to attract mosquitoes. This might make it less effective in attracting mosquitoes than traps that use these two components. It also only works with flying insects, so it will not trap any crawling insects that get inside your house.
The size of this product is 16 x 8 x 10 inches and weighs 1.4 pounds. It can be used in small bedrooms or other indoor spaces. It has no bells and whistles but can kill mosquitoes and other insects.
It needs an electric supply to work but comes with a USB A/C adapter, making it more portable than the other traps or zappers in this list. As long as you have an outlet or USB port near you, it's possible to use this trap. Which means you can take it on camping trips.
One of the advantages of traps over zappers is that they work without making the zapping sound that some people find annoying.
| | |
| --- | --- |
| Pros | Cons |
| Portable | Only for use indoors |
| No chemicals or fumes | Larger insects cannot be trapped |
| Easy set up (just add the glue card) | Need to buy replacement glue boards |
| Quiet only the sound of the fan | |
| Clean – no dead animals left around the trap | |
DynaTrap DT150 Ultralight Insect Trap
The DynaTrap DT150 uses UV light to attract bugs and a fan to suck the insects into the catch basket, where they dehydrate and die.
Unlike the Katchy, this model does use CO2 to lure mosquitoes, which should make it more effective. The UV light used in the trap produces a reaction with the titanium dioxide-coated surface of the trap and releases CO2. 
This small device weighs 1.17 pounds and measures 4.7 x 4.7 x 7.7 inches. It is designed to cover an area of 300sq feet. This Dynatrap insect trap is lightweight and small, making it easy to place on any flat surface, hang on a hook, or even take with you on your travels, but it does need an electric supply to work.
Eliminates different insects in addition to mosquitoes, such as biting flies, wasps, moths, and stink bugs.
There are bigger models of the Dynatrap insect traps that are suitable for use indoors or outside.
| | |
| --- | --- |
| Pros | Cons |
| Long-life cold cathode fluorescent lamp (20000hrs) | Only for indoor use or covered outdoor settings |
| Produces CO2 so should attract more mosquitoes | Need an electricity supply |
| Quiet operation | Unable to buy replacement bulbs |
| Quick and easy to set up | |
| No chemicals or insect debris | |
BLACK+DECKER Indoor/ Outdoor Electric UV Bug Zapper
If you need something that can be used indoors and outdoors, the Black+Decker is a good option.
This device operates with UV lights that lure mosquitoes and other insects into the unit where the bug-killing grid electrocutes them. When bugs touch the 2400 volt grid, they are killed instantly.
Although most people buy this zapper for outdoor use, its design and size make it suitable for indoor use as well. The cage looks like a lantern and can blend in with your decoration without looking out of place.
It is a little more robust than some of the other interior mosquito killers and weighs 3.69 pounds, and has dimensions of 32 x 12 x 32 inches. So you can place it on the floor or tabletop without taking up too much space. It also comes with a removable chain to hang it where you like and keep it out of reach of children and pets.
The Black+Decker can handle an area of 1/2 acre outside, so it will efficiently deal with insects in your biggest room. It may cost a little more than the zappers/traps for the interior only but gives you more versatility if you need a zapper for different situations. It needs to be plugged into an electric supply to work.
Using this bug zapper outside will probably kill many beneficial insects and a few mosquitoes.
| | |
| --- | --- |
| Pros | Cons |
| Can be used indoors or outside | Needs an electric supply |
| Removable collection tray for easy cleaning | Some noise when zapping larger insects |
| No chemicals, attractants, or glue cards – low running costs | The only attractant is UV light |
| Easy set up (just plugin) | |
| Bulb replacement is easy | |
Aspectek Electronic Insect Killer
This device is a rectangular zapper measuring 15.16 x 11.02 x 3.15 inches and weighs 2.8 pounds. It can cover an area of 6000sq feet to cover your biggest rooms or be used in a basement, garage, shop, office, and more places.
Much like the Black+Decker model, it uses a powerful grid (2800 volts) to electrocute bugs, making it perfect for catching mosquitoes, flies, moths, and other insects with a zap.
You can hang this insect killer with the chain supplied or placed on any flat surface.
It does not use chemicals to attract mosquitoes and has a protective mesh screen to prevent accidental contact with the electrical grid.
| | |
| --- | --- |
| Pros | Cons |
| Protective cage to stop accidental shocks | Electrocuted insects may land on the floor under or next to the Aspectek |
| Ready to go just need to be plugged in | UV light is the only attractant |
| 2 spare UV bulbs | Zapping sound when insects are electrocuted |
| Low running costs, no glue cards or chemicals | |
Gardner FlyWeb Classic Fly Light
A plugin socket trap that uses a 9-watt energy-efficient UV light to attract insects, which are then trapped on an adhesive glue card. The Gardner trap covers an area of up to 600 sq feet.
These traps are used for indoor areas only and can be employed anywhere you have an electrical socket. The small size of the Flyweb Classic makes it a discreet way to eliminate flying pests in a room and also makes a good night light.
When you receive the fly light, you will have to remove the adhesive protection from the glue card, insert the card into the trap, and plugin.
Cleaning is easy; just remove the used glue card and replace it as necessary. The trap comes with only one glue card, but replacements are available in packs of ten. Think to buy some replacement cards when you buy the trap.
Dimensions14.4 x 5.9 x 2 inches and weight of 0.95 pounds.
| | |
| --- | --- |
| Pros | Cons |
| Easy setup – insert glue card and plugin | Only for indoor use |
| Can be used in a bedroom – completely silent with discreet blue light | Needs an electric supply |
| Safe for kids and pets | Comes with only 1 glue card; you have to buy replacement glue cards – increased running costs |
| No chemicals or odors | |
Bonus – Little Known BG-Home Indoor Trap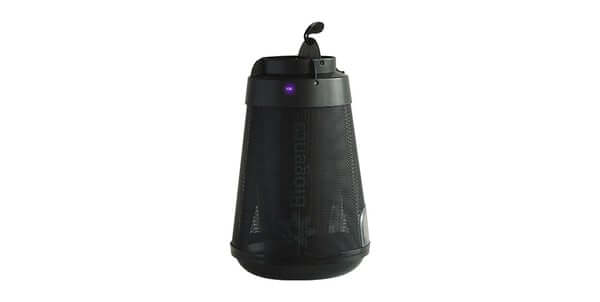 The Biogents trap is not very well known yet but is particularly attractive to two common mosquitoes that are vectors of disease, the Asian tiger mosquito (Aedes albopictus) and the yellow fever mosquito (Aedes aegypti). The trap will also catch other flying pests in the house and doesn't use any harmful chemicals.
If you have one of these mosquitoes in or around your house it may be worth trying this trap. These dark-colored mosquitoes are particularly easy to distinguish by the white markings on the body and legs.
The trap works by using a combination of cues, an artificial scent that mimics human skin which is particularly attractive to the Aedes mosquitoes, a heat source at the top of the trap, a UV light, and the black color of the trap is attractive to the mosquitoes.
When mosquitoes approach the trap they are captured by a fan and then trapped in the base of the trap when they dehydrate and die.
For more info on this trap, take a look at the Biogents website.
Indoors Traps Shouldn't Be Your Only Weapon
While an insect trap will help you eliminate mosquitoes and other flying insects once they are in your house, it shouldn't be the only form of mosquito control you use.
Using several steps – eliminate or attack their breeding grounds, make it harder for them to enter your house and other control methods are worth considering.
eliminate any standing water in small containers, gutters…
tidy your garden -remove plastic sheets, old tires, childrens toys…
a pond should be treated with a larvicide or stocked with fish
consider a trap in your garden to catch the mosquitoes as they make their way to your house
Ideally, ask your neighbors to take the same measures, and you will be able to make a dent in your local mosquito population.
Another idea to keep the skeeters out of your home is to install window or door screens. You can even make them yourself for very little cost.
Indoor Mosquito Traps Conclusion
Choosing the best indoor mosquito traps can feel like a daunting task. If you want a chemical-free option that is low maintenance but still does an effective job of trapping mosquitoes without any harmful chemicals or artificial smells, purchase one of these traps. All of them use electricity and UV light to attract mosquitoes, but some have different ways of trapping them.
Make sure that the trap you select meets your requirements, think particularly about the brightness of the light and noise if it's to be used in a bedroom.
Mosquitoes are attracted to humans, and they find us by following the carbon dioxide we exhale. So the most effective traps should be traps that produce carbon dioxide. Dynatraps can do this safely for use inside a house.
Traps are a great solution to insect problems in the house and a good alternative to having to use insect repellents or other chemicals indoors.